Dwight Frizzell
Matt Quinn
Dwight Frizzell is an internationally recognized artist whose interdisciplinary work combines video, performance, installation, music, audio art and writing. He has been producing the "From Ark to Microchip" series with Jay Mandeville since 1984. Ark radio has been heard on KOPN, KCUR, KGNU, RESONANCE FM (London), RADIO NOVA (Paris), and WKCR (New York).
Dwight's boyhood neighbor in Independence, Missouri was Harry S. Truman, who appears in Dwight's work as a pianist, Atlantean King and time-traveler. Dwight released the "Beyond the Black Crack" LP in 1976, studied video art with Douglas Davis (1977), clarinet with Raymond Luedeke (1979) and metaphysics with Sun Ra (1980-1990). His work was exhibited at Biennale de Paris, World-Wide Video Festival (Amsterdam), and broadcast on NPR.
Dwight's collaborative third-mind creations with writer Jay Mandeville includes plays, essays, and Ark scripts.  Their work was published in "Semiotext(e) Radiotext(e)" and "Experimental Sound and Radio" (MIT Press). They edited The Pitch newspaper in the early '80s.
Dwight's music is available on Paradigm discs (England). He plays Buffet clarinets and Yamaha saxophones and wind controllers. His collaborations with Michael Henry include "Sonic Force," where AFR A10 Warthog Attack Planes were used as musical instruments. Frizzell is a founding member of the Black Crack Revue, the newEar contemporary chamber ensemble, and the National Audio Theatre Festivals. He performed recently with David Ossman and Phil Proctor of the Firesign Theatre.
Hosts:
---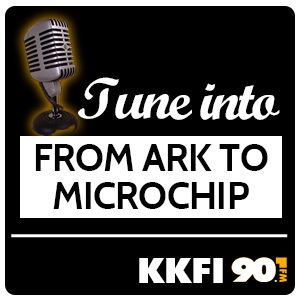 The provocative "From Ark to Microchip" mixes commentary, dramatic re-enactment, original music, historic voices, audio art and sound effects in a pan-historical, pan-cultural milieu. Programs in the program series have received several awards.
Listen live on KKFI
At 7pm on the fifth Thursday of the month beginning July 31, 2021. (Fifth Thursdays in 2021 are July, October, December.)
---