"The Worse Things Get, The Harder I Fight, The Harder I Fight, The More I Love You"- Neko Case
Posted by:

Jared McNett
Comments:

0
Post Date:
09/06/2013
---
Jared McNett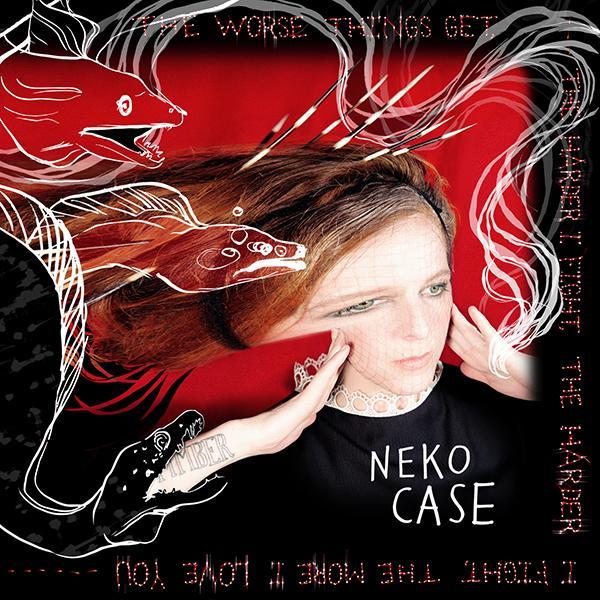 Six albums deep into her solo career, Neko Case's earthen voice is synonymous with perpetuity. The New Pornographers member delivering a lamenting ballad from some 19th Century saloon is as probable as storming through a set at South by Southwest circa 2013. In a muddy swamp or ornate concert hall she's equally comfortable. Case is a conjurer and her voice is the conduit. Odd then she began her career sitting behind drum-kits in Canadian bands Cub and Maow. Her reticence to take to the mic conveys a lack of confidence. If there's a touchstone between this reluctance and Case's new LP The Worst Things Get… it's the lack of confidence.
Opener
"Wild Creatures"
finds Case "fighting to be wise". A mother's reassuring hands fails to corral Case as a slow electric country trot becomes a gallop.  Case is quizzical during follow-up
"Night Still Comes"
. Masonry can't make sense of Case's state, nor can she, always tilting things to an unrecognizable angle.
Middle Cyclone
saw Case on a
Beatrix Kiddo
revenge quest, but she sheathes the samurai sword here. Her insatiable "bloodlust" becomes a thirst for understanding, in hopes of restoring her declining confidence.
"Man"
is a breakneck track where Case discovers understanding through unrelenting poise. I've toyed with the notion: Case is Feist if she didn't take s*** off of anyone, and "Man" drives the point home at 110MPH in a dirt-kicking '67 Chevy. Feist couldn't commit to finger-wagging on
"Limit to Your Love";
Case aided by liquid confidence inverts a finger to those who spurn her. "And if I'm dips**t drunk on pink perfume, Then I'm the man in the f***ing moon', Cause you didn't' know what a man was, until I showed you" she firebreathes near the song's end. It's a kick you in the teeth moment, leaving you chuckling as the warm blood begins to flow from your mouth.
Quests inevitably have their peaks and valleys and
The Worse Things Get
is no different. Subdued follow-up
"I'm From Nowhere"
hits the E-brake after the wild-ride of "Man". Case's considered strumming brings the doubt back like a bad check, she's not sure "what I wanna be" and stares intently at the ground while admitting to being "from nowhere." At first glance "wasted it complaining like a trust-fund kid" is lacerating, but further inspection reveals a bubo.
However, a diminutive bubo can be just as ferociousness as the scant
"Calling Cards"
and
"Afraid"
prove. They're two songs of several on
The Worse Things Get
to clock in at less than three minutes and still manage to wring out the last drops of agony. "Afraid" attempts to "Man"s swagger via double-edged aphorisms: "you are beautiful and you are alone." Only subtle piano and autoharp flourishes accompany Case, assuring solitude. "We'll all be together, even when we're not together," Case sings on the muted "Calling Cards". Rifling through scenes of a long-distance romance Case's lens lingers on the final shot, "I've got calling cards from twenty years ago." For all the power distance lords over a relationship, it's time that matters more.
The quest has a layover in the Pacific when her attention diverts to motherhood for the sobering acapella number
"Nearly Midnight Honolulu"
One impetus for the album's constant confusion are the passings of Case's mother and father, neither of whom Case was close to. "I don't have any love for either of my parents, so having them die was extra-weird," Case admitted in a Guardian
interview
. Case displays the "weirdness", detailing an irate mother in the Hawaii capital screaming at her child "get the f*** away from me, why don't you ever shut up?" Case's voice is noticeably disarmed throughout until the stunning turn, when a phalanx of disembodied voices joins her. The sudden accompaniment suggests this isn't the first time that phrase is uttered at a child and it won't be the last. Turning to the adolescent to say sorry, she also affirms "it happens every day." She's not offering up sonnets, rather a look into her own autobiography.
Closer
"Ragtime"
allows Case to achieve a modicum of confidence, one tempered by the affirmation "I am one and the same, I am useful and strange." Lindsay Zoladz's
Pitchfork review
rightly compared the "brassy swell" to the eternal
"Crimson & Clover".
However, any musical commonality takes a backseat to lyrical overlap. The 60s classic was haunted by doubt "no I don't hardly know her" and the same can be said of Case. Tommy James & The Shondells find confidence when "she comes walking over." Confidence can't come overnight.
"There is absence, there is lack" folk transplant Bonnie "Prince" Billy
once warbled
.
The Worse Things Get
… is focused on lack: of confidence, of love, of parental guidance though it's never absent. Neko Case is there in the midst of it all. She may chase her muse to the four corners, but she's not going anywhere.