"Wise Up Ghost"- Elvis Costello & The Roots
Jared McNett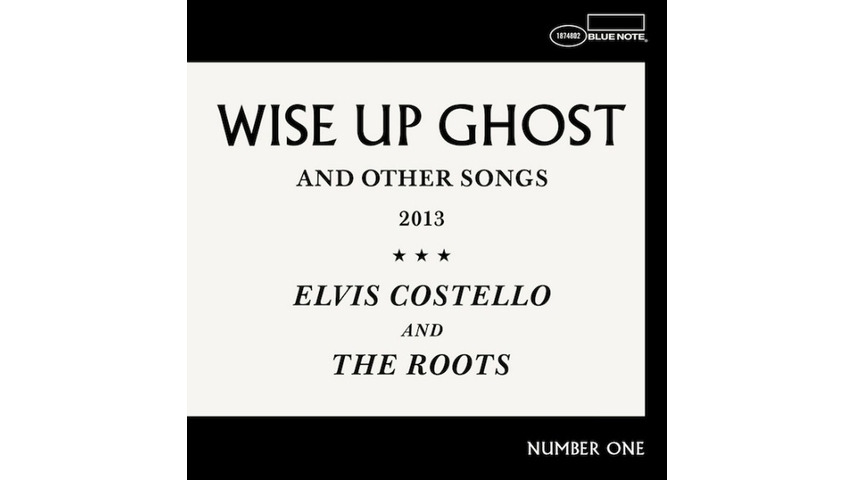 Reading Wise Up Ghost's unembellished cover is unquestionably one of the most jarring musical experiences this year. Two artists separated not just by race, creed, and color, but by continental divides, decades, and musical differences. When Dylan and the Band joined forces they united under the banner of Americana. David Byrne & Brian Eno were audiophiles, hell-bent on bringing their genre-crossing/crate digging to the masses. Pearl Jam were fawning tots at Grandpa Neil Young's feet when they concocted Mirror Ball. Meanwhile, the wild pairings can be disastrous. R. Kelly's off the map musings rudely clashed with Jay Z's carefully calculated personae, and The Best of Both Worlds brought out the worst in both. Lou Reed seemed eager to forget Lulu in the midst of recording with Metallica. That said, these are the Roots and Elvis Costello we're talking about, two artists who've staked a certain claim on collaborative streaks.
Despite the Roots veritable status as the hottest house band on late night, Costello is the bedrock upon which Wise Up Ghost is built. In the past his chameleonic shifts have been served by a revolving door of willing cohorts. From the main stay Attractions of his early years to legendary composer Burt Bacharach and Allen Toussaint, Costello has scored in the service of more teams than career journeyman Juwan Howard. He is a troubadour in the most literal sense, as comfortable kicking up his feet in Nashville as he is in London or the back stages of the Jimmy Fallon Show. Akin to countryman David Bowie, his insatiable musical appetite ensures he'll never settle down. If there's one rallying point for these disparate parties, it's the outward avoidance of stasis. Roots drummer/de-facto bandleader ?uestlove's impeccable time-keeping is all that holds the band in place.
Even with this bond of musical transience, collaborative efforts demand a feeling out period, achieved on opener "Walk Us Uptown" through the fidgeting of knobs and obsessive volume adjusting. ?uestlove quickly eschews the formalities and soon the song comes into focus. "Walk Us Uptown"s portentous groove recalls a pulpy crime novel; Costello's lyrics amble down dingy alleyways and pray for solace from the crossfire and cross-currents. An uncouth siren cuts the foggy night air; signaling the concrete jungle has claimed another victim.
Follow-up "Sugar Won't Work" bears a broken heart, but lightens the mood via an elastic guitar riff courtesy of Captain Kirk Douglas. The string section floating overhead recalls Wake Up's breezier moments although Costello's coping to stupidity is far dourer than that record's soulful effervescence. "Wake Me Up" wades through a similarly restrained funk undercurrent to Costello's bedroom bedlam where Easter becomes a slaughter. Images of "A.C. trained on the TV" to avoid a windswept eye and "decorated girl(s) strapped to the steel trunk of a Mustang" puncture, though Costello chews some of the bloodstained scenery for far too long.
Elsewhere, the title track earns its six and a half minute length. Rambling scenes of lost girls found on the radio and 1930s iron piers populate the dismissive narrative where Costello points a finger at ghosts of the past. A rapidly descending string section lends the song a spectral quality, like a mad dash down a staircase in a dilapidated mansion. Similar to "Wise Up Ghost", "(She Might Be A) Grenade" threatens to "pull out the pin," but never quite explodes; choosing to steadily smolder. After an early drum roll, ?uestlove's playing saunter's along as the Roots crew coat the track in a 70s soul glaze.
"Refuse to Be Saved" dips further back by way of 60s superhero organ shrieks and a "Subterranean Homesick Blues" bluster Costello adapts. Douglas' whas on "Stick Out Your Tongue" are prime late 60s psychedelia and lyrically Costello is mired in the halcyon swamp of his songbook. Here, he liberally borrows from the 4th Estate fomenting "Pills and Soap". If anything about Elvis' performance could be considered "hip-hop" it's his not so subtle genuflecting at the altars of prior albums. Aforementioned "Stick Out Your Tongue" also appropriates pieces of Mighty Like A Rose's "Hurry Down Doomsday" to claim press-credentials. Foreboding epic "Wise Up Ghost" pulled out the pin for 2004's Delivery Man. Highlight "Tripwire"s twinkling waltz held its first dance during Spike cut "Satellite".    
Though the pairing rips out pages of the past, they quickly cast them into confetti. Boisterous "Come the Meantimes" teases a Black Thought verse that never comes, instead fading into a fuzzed-out guitar solo.  "Cinco Minutos con Vos" features a bloody battle between Elvis Costello's nervous pleading and La Marisoul's unflappable calm, backed up by ?uestlove's in-the-pocket drum part. Piano ballad "If I Could Believe" closes out the album pulling at heart strings and slowly twisting the knife into Costello's faith. Costello & the Roots wax self-referential for much of Wise Up Ghost, however foreknowledge is no prerequisite for enjoyment, or as the man himself puts it "just because you don't speak the language, doesn't mean that you don't understand."