Sara Hickman
admin
Let's start with today In May 2010, Sara became the Official State Musician of Texas, following in the footsteps of the legendary Willie Nelson, and used this title to help families create together and bring art programs into public schools. The result in 2011 was the ground-breaking album The Best of Times, a compilation album of her songs recorded by other amazing Texas musicians, including Willie Nelson, Marcia Ball, Shawn Colvin, Edie Brickell & New Bohemians, Ruthie Foster and 25 other artists. All proceeds go to Theatre Action Project, a group dedicated to putting art, music and theater back into public schools.
She's been performing with her kid friendly trio, Family Time Rocks!, whose motto is "families that to create together, do great together!" Sara's produced a CD for FTR! that came out in September 2010 as a free download for families, thanks to the support of HEB.
Sara released Absence of Blame, her most recent CD, which includes 13 songs of sorrow and redemption. She put out an animated DVD for children entitled, Big Bird, Little Bird (which immediately won Dr. Toy's award for Best Summer Vacation item), and produced Sweet Songs, a collection of Austin female musicians singing songs for families, with all proceeds benefiting the Mothers' Milk Bank.
---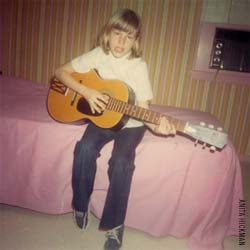 But, at the very beginning… Age 7: Sara got a guitar. She named it Martha. Age 8: Sara wrote/performed her first song on stage, winning first place from the Daughters of the American Revolution.
As a child in Houston With a fiber artist mother, a painter for a dad, a soccer playing sister, Sara's world was full of interactive creativity: writing, painting, wild art parties thrown by her parents on occasional weekends, with interesting women in fur coats and long cigarettes, collegiate art students around the piano, everyone singing "Girl From Ipanema," Sara in pajamas, eyes full of enthusiasm.
Teen Years Sara attended the High School for Performing and Visual Arts, studying vocals and beginning to perform at bank openings, weddings, in psychiatric units, and even at a pizza parlor. She also started getting involved in bands.
College Years Graduated w/a B.A. in Fine Arts from the University of North Texas/Denton. Set to become an art director, she switched plans when she moved to Dallas, creating her first album, Equal Scary People with Brave Combo founder, Carl Finch, who had seen her on a cable access show.
Multiple awards were won from the Dallas Observer, so Sara landed a deal with Windham Hill, then Elektra. Sara began touring, playing festivals, appearing on VH1, singing on the Tonight Show.
Then… Crash! Elektra decided to shelve Sara's next project and drop the album. Sara's fans rallied together to help her raise $50,000 to buy the album back. It was a moving testimony to the power of the people.
---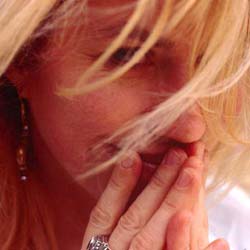 Community Issues
Sara does a world of good. She's raised hundreds of thousands of $'s for: the Dallas Dance for Life; House the Homeless; Bryan's House; AAIM; PETA; Amnesty International; homeless shelters, SPCA, Mothers' Milk Bank, TCADP; visited Romania to deliver clothing, money and supplies to orphans; and personally raised more than $50,000 for the Hill Country Youth Ranch in Ingram, Texas, a safe haven for severely abused children. The HCYR then opened the Sara Hickman Childrens' Fund, which accepts matching grants and buys musical instruments, dance shoes, and art supplies for the children of the ranch. Sara's involvement in music and art therapy continued through ARTS (Artistic and Recreational Therapies), leading her to perform for children in burn units, AIDS and stroke victims, and in psychiatric units, where she utilized her talents and love to help with the healing process. In 2004, Sara was the National Ambassador for Half Price Books visiting hospitals and schools across the U.S., helping to promote literacy where she performed and read to children.
---
Extras
Sara produced, directed, and filmed her first video, Joy, winning first place in the USA Film Festival; started a side project, Domestic Science Club, a three-part girl group best described as "the Andrews Sisters meet the Roches." This group released two CDs, Domestic Science Club and Three Women.
---
Share This Episode