Heartland Labor Forum
admin
The Heartland Labor Forum is Kansas City's only program about the workplace. It's radio that talks back to the boss! Whether you're a union member or your workplace isn't organized, Heartland Labor Forum (HLF) has stories for you, guaranteed to inspire, educate, or enrage you. HLF is produced by a diverse group of working people. We have been agitating for the rights of working people on the KKFI airwaves since 1989.
Find out about labor struggles and strikes, organizing in Kansas City, global sweatshops, and how the economy is working from the point of view of working people. Listen to our monthly features: Know Your Rights, Safety First, Remember Our Struggle, and Washington Window on Workers. Heartland Labor Forum has won the International Labor Communications Association first prize for radio several times.  We are members of the Labor Radio Podcast Network #laborradiopod. Other media have plenty of business news of, by, and for the 1%; HLF is for the rest of us.
Find our schedule of upcoming shows and our archive at www.heartlandlaborforum.org.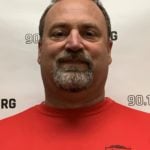 Jen Zaman Dream of an engineer. She's J Zed–presenter of Mind The Gap, Saturdays 12AM GMT/6PM CST. Music/art lover, proud wife and fur-mom, and aunt to a French teen.
Feature Editors
Michael Amash does Know Your Rights once a month. He is with the Blake & Uhlig labor law firm.
Mark Gruenberg is on once a month with Washington Window on Workers. He is a full-time labor journalist with PAI-Press Associates Inc. which provides news to unions and labor publications.
Upcoming Episodes
Ellen Cassidy's "Working 9 to 5" chronicles the famous clerical workers organization of the 70s, the union and the movie. Then, what's happening with the UAW's first direct election of top officers?
Read More